Trying to think of my ALL TIME FAVORITE BOOKS from the past three years was a little tricky. See, it doesn't take near as much for a book to get a 5-star rating from me (you know, just be amazing, no big deal), but it has to go deep to land on my favorites list. A book has to strike a chord with my very soul, must be so completely personal, and that's no easy task! Especially when given only three years to do it in!
And yet, these books did that for me. I cheated on a couple (because apparently my soul is almost impenetrable and needs a slight time extension), but I did READ those books in the past three years. SO IT COUNTS!
Throne of Glass
series by Sarah J. Maas
I will never be able to coherently express just how much this series means to me. I don't think the words necessary even exit in the English language. From the moment I met Celaena, she was a part of me, and, I've said it before and I will say it again, she saved my life.
Saving Francesca / The Piper's Son
duology by Melina Marchetta
These characters... THESE CHARACTERS. I love them. They make me cry and laugh, sometimes within one page, or at the same time. And I want them to be in my life, forever.
Wildwood Dancing
by Juliet Marillier
I was...
enchanted
by this book. It's so beautifully written, the characters stole my heart, and it made my eyes sparkle with magic. I read this book back in 2012, and even now all I have to do is look at the spine on my bookshelf and that same magical tingling runs up my spine. Pure magic.
Lumatere Chronicles
by Melina Marchetta
Generally, authors either write contemporary or they write fantasy. Not so with Melina Marchetta, and thank God for that! It's weird to say this, but when you read you'll understand what I mean - I have never read a more character driven fantasy in my life. Whenever I think about the entirety of the Lumatere Chronicles my mind just explodes, it's that brilliant and heartbreaking and heart mending. It's
everything
.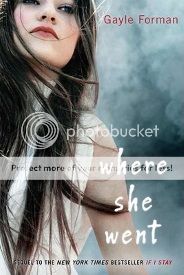 Where She Went
by Gayle Forman
I think I cried throughout the entire book. Need I say more? Like just the ugliest tears were pouring down my face... the whole time.
A Court of Thorns and Roses
by Sarah J. Maas
This is the newest addition to my favorites list, and I don't think that should shock anyone. It's exactly what I expected from Sarah, and yet it is so much more than I could have ever imagined. I don't think there are many books out that are simply perfect. But I think this is one of them, if only damn near close to it.
Juliet
by Anne Fortier
Shakespeare's story doesn't hold a candle to this retelling. Though I am slightly biased. This is historical contemporary literature at it's best, with the magic and mysticism of past Sienna and the allure and romance of the present day storyline. So beautiful.
Nevermore
trilogy by Kelly Creagh
There is just something about this book that I can't put my finger on. It's enthralling. It's different from anything else I've read. You know how some books read light, like the difference between a watercolor and an oil painting? Not this book. This series is so densely written like a vivid oil painting. And it's beautiful and obscure and incredible.
The Glass Lake
by Maeve Binchy
The depth in which this book goes - I can't even. So many memorable characters, some to love some to hate, all integral. This is one of those books that shows how even the smallest character matters. They all matter in the storytelling process. That alone is a reason to put it in my favorites, but that is most definitely not even close to the only reason. *StevieIwantyounow*
The Darkest Minds
trilogy by Alexandra Bracken
This one surprised me. I did not expect to feel so much when I started reading, only because it's in a genre that I don't usually gravitate to (sci-fi/dystopian). But, God, did it make me feel! And laugh (Chubs, thank you. Just thank you) and weep and mourn and have this urge to just STAND UP and DO SOMETHING! There, it was empowering. That's the effect Ruby and the gang had on me. They empowered me.
What books have made it onto your favorites list recently?